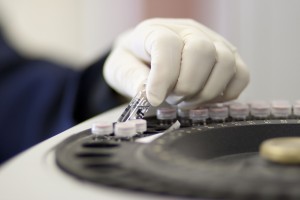 Anderson Development Company (ADC) was founded over forty years ago, as a research and development company, with a focus on the development of new products.  Through years of innovative R&D, ADC has developed a solid line of specialty and custom chemicals created to improve everyday living, as well as decrease environmental impact.  Three of ADC's top specialty chemicals include Acrylic Resins (Almatex), Polyurethanes (Andur), and Boron Compounds (Almabor).
Acrylic Resins
Acrylic Resins are primarily used in powder coating applications for metals.  Powder coating creates a very hard finish that is more durable than traditional paint, which is why it is used primarily for parts in the automotive industry.  Powder coatings can also be found on outdoor furniture, lawn and garden equipment, household appliances and architectural applications.  GMA (Glycidyl Methacrylate) acrylics are used in products which require weather durability, gloss, crystal clarity, chemical resistance, and smoothness.  Browse Acrylic Resins.
Polyurethanes
ADC's Polyurethane product line serves a variety of applications as well.  Polyurethane is very versatile, being soft like rubber, as well as very rigid like plastic.  Polyurethanes are used for industrial wheels and rollers, as well as for roller skate wheels, and other recreational items.  They are also used in oilfield parts and mining.  Browse Polyurethanes.
Boron Compounds
Another of ADC's products, boron compounds, is just as unique and versatile.  Many of ADC's boron compounds are used in highly specialized industries, such as electronic chip manufacturing, chemical intermediates, catalysts, fuel and lubricant additives, and liquid crystal manufacturing.  Another key usage of boron compounds is in pharmaceuticals, including drugs used to fight cancer.
Many of ADC's high purity specialty borate esters such as triisopropyl borate (TiPB), triethyl borate (TEB), tri-n-butyl borate (TnBB), can be used for manufacturing organoboronic acids and esters. TIPB is also used in reducing agent synthesis and in adhesion promotion. TEB also used in electronic applications. Organotrifluoroborates have been utilized not only in a wide range of transition metal catalyzed reactions, for example Suzuki coupling, but also in other synthetically useful transformations.  Browse Boron Compounds.
What "Development" Means
ADC is committed to the development, and continual improvement, of diverse and widely used specialty chemicals.  ADC constantly explores new applications of existing products as well.  To this company, the term "Development" means constant improvement and innovation in the field of chemical manufacturing, with respect for the environment.  That's what Anderson Development Company stands for.