Environmental, health, safety, and security performance has improved greatly through implementation of the Responsible Care® by American Chemistry Council (ACC) members.
Involvement in Responsible Care® is required for all ACC member companies. Some of the program elements include: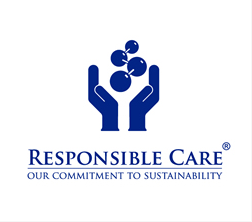 Determining and publicly reporting performance;
Meeting Responsible Care® Security Code requirements;
Using the Responsible Care® management system. This includes system planning, implementing the system, checking to make sure that it is working properly, and management taking the necessary steps to improve the system.
Obtaining an independent certification that the management system is functioning properly.
Responsible Care® is a global initiative. It is being currently used by 53 national associations, which all share the goal of promoting the safe and secure management of chemicals, products, and processes.
Anderson Development Company is committed to the ACC Responsible Care® Guiding Principles:
To seek and incorporate public input regarding our products and operations.
To provide chemicals that can be manufactured, transported, used, and disposed of safely.
To make health, safety, the environment and resource conservation critical considerations for all new and existing products and processes.
To provide information on health or environmental risks and pursue protective measures for employees, the public and other key stakeholders.
To work with customers, carriers, suppliers, distributors, and contractors to foster the safe use, transport, and disposal of chemicals.
To operate our facilities in a manner that protects the environment and the health and safety of our employees and the public.
To support education and research on the health, safety, and environmental effects of our products and processes.
To work with others to resolve problems associated with past handling and disposal practices.
To lead in the development of responsible laws, regulations, and standards that safeguard the community, workplace, and environment.
To practice Responsible Care® by encouraging and assisting others to adhere to these guiding principles and practices.